Good advising, right from the start
The Lupp corporate group portfolio extends far beyond classic construction services like completing building projects. From consulting and planning to execution, as well as after-sales services, we offer comprehensive and extensive construction cycle management and support you throughout every phase of your project.
DEVELOPMENT
Every project starts with an idea.
With experience from over 100 years of company history, we have continuously expanded our work areas in recent years. Whether alone, in joint ventures or other models of partnership, we handle a wide range of project development services. We develop a custom project based on an initial idea, then use it to design a detailed building design. A long-term, comprehensive strategy is essential to ensure sustainable, targeted project execution. The major cornerstones for later success are laid in the early phase of project development. This area, therefore, complements classic construction and facility management, creating a triad of economic efficiency, usability, and sustainability.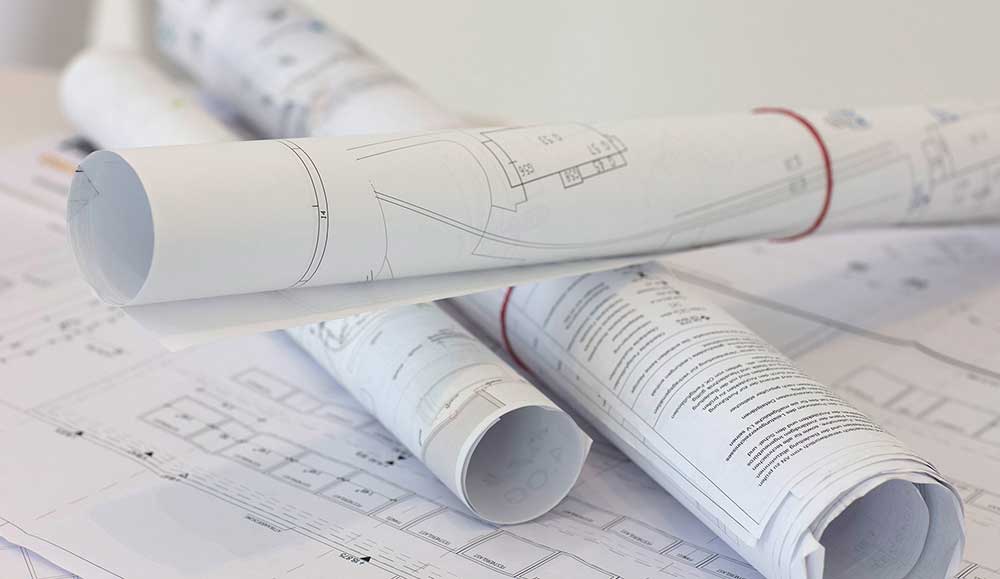 Lupp project development offers the following individual and overall planning services:
Market and location analysis
Property acquisition
Profitability analysis
Utilisation concept
Preliminary planning concept
Financing concept
Marketing concept
Draft planning
Advance planning
Approval planning
Implementation planning for the call for tender and award process
CONSTRUCTION
Don't just build with anyone, build with Lupp!
From shell construction to turnkey-ready buildings, Lupp is your specialist for construction projects. Our portfolio ranges from residential areas to commercial and administrative buildings, industrial and production buildings, computing centres, hotel and university buildings, clinics, and apartment buildings. Our specific area of expertise is custom, efficient building solutions individually tailored to architectural requirements. As a general contractor with a large network of qualified partners and subcontractors, we primarily construct turnkey-ready building projects as a complete solution. However, we also handle renovations and expansions, modernizations, and extensions of existing buildings. Our corporate group has also offered infrastructure construction services for many years.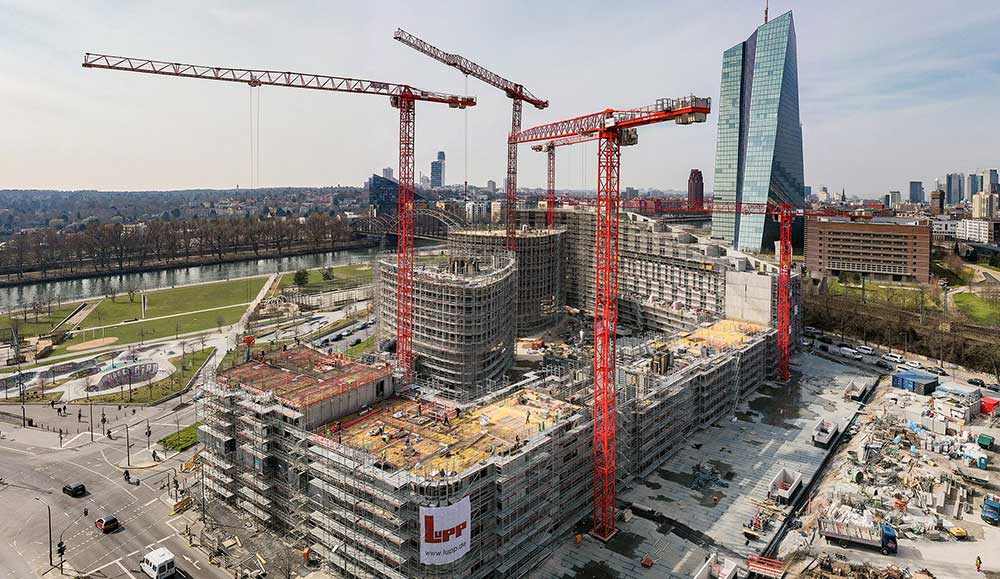 Challenging shell construction projects
We handle shell construction building projects of all kinds for you, using state of the art building approaches which we develop continuously to optimise our processes. Using prefabricated and semi-finished components from our in-house prefabrication plant, the Oberhessischen Spannbetonwerk (OSW), improves quality and lowers costs. By doing so, we ensure we can complete your challenging shell construction projects on time, economically, and with the highest level of quality.
Computing centres – where performance counts
The Lupp corporate group is an experienced partner for computing centre construction. We have already constructed a large number of data centres, primarily in the Rhine-Main region, on behalf of leading providers of cloud and carrier-neutral computing centre services. By offering structures made of concrete and precast reinforced concrete components, combined with in situ concrete components, we are able to build your computing centre quickly, economically, and in excellent quality.
Lupp – when you want to go beyond
Since we built the Omniturm in Frankfurt's banking district, the high-rise with the "hip swing", we have been making a name for ourselves in skyscraper construction. The building, which is approx. 189 meters tall, remains the highest in the company's history. Other high-rise buildings followed, with other building projects in Frankfurt such as the 140 West, the Senckenbergturm or the F.A.Z. Tower.
Turnkey-ready from a single source
As a general contractor with a network of long-term expert contacts, Lupp is the ideal partner to construct turnkey-ready building projects of all kinds. From planning to shell construction and expansion to handover, we offer all construction services from a single source. This has clear advantages for our clients: high reliability, compliance with agreed budgets and time frames, and successfully completed building projects.
You can find a selection of our ongoing building projects here, as well as successfully completed projects from different categories.
OPERATIONS
360 degrees for your project
We are glad to continue supporting you even after your project is complete. From maintaining your technical systems to cost controlling for your property, to complying with official inspection requirements – Lupp Facility Management can handle all of these tasks and more as your highly efficient service partner.
Highly trained employees and a CAFM system tailored to customer requirements are the foundation for our joint success in economical facility operation.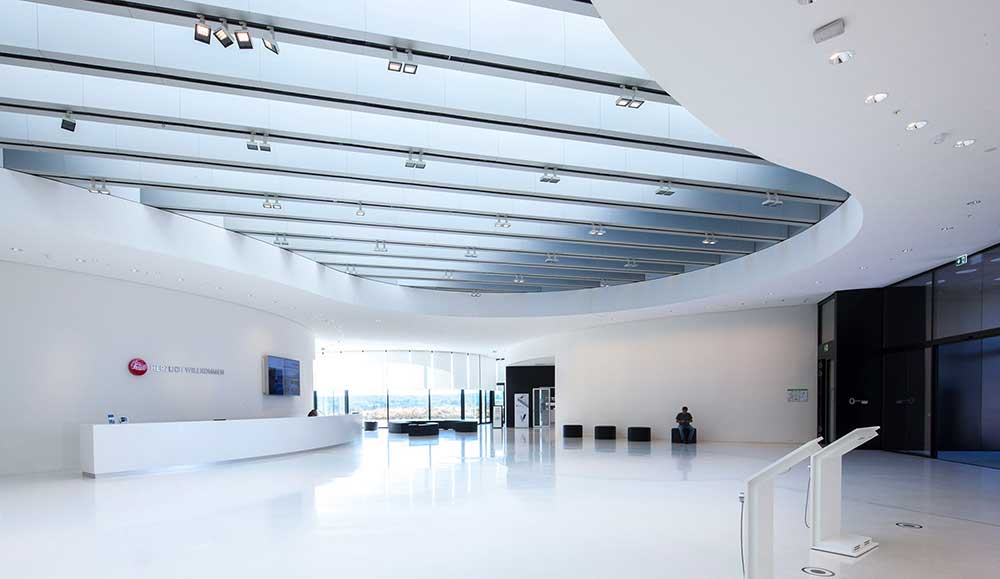 Our vision
Tradition and innovation
Preserving the good and venturing into new territory – the Lupp family company's formula for success since its founding in 1910. The combination of innovation and long-term experience in the building sector allows us to build the future today. Corporate policies designed for the long term and fair corporate action towards both our customers and our employees, as well as consistent management, currently by the 4th generation of the founding family, foster trust and continuity. The values associated with this vision, such as partnership, responsibility, competence, and quality, are a fundamental part of our corporate culture.
Meeting at eye level
At Lupp, partnership between people is the focus. We meet customers, suppliers, subcontractors, and our employees at eye level. Solidarity, honesty, and reliability guide us in all of our decisions.
Taking on responsibility
At the Lupp corporate group, we are aware of our social, regional, and ecological responsibility. Our corporate activities are shaped by sustainability towards our home region, the regions where our projects are carried out, and for the society and the environment. We carry out our sophisticated building projects with forward-thinking technologies and materials.
Competent building
For 113 years, our mission has been providing construction services on time and with outstanding quality. With professional competence and a high level of personal commitment, we do everything possible alongside our partners in the Lupp team to continue our long tradition so we can continue to meet this high standard in the future.
Exemplifying quality
Our mission is to perform our services with the highest level of quality. To remain successful into the future and for the long term, we work to optimise our services and processes every day. This includes maintaining transparent processes, seamless documentation, and regular reviews by independent entities. All of the companies in the Lupp corporate group are governed by comprehensive quality management and certified pursuant to standards like DIN EN ISO 9001. In addition, the quality of our corporation and individual companies is verified by a variety of further certifications. We always comply with nationally and internationally valid occupational protection standards.